being a libyan means i have to have bread every single day, its the usual normal thing to have breads as part of each lunch and dinner, for me i dont care what type of bread it is as long as it goes perfectly with the meal, i will always welcome those lovely YUM carbs :).
as the everyday struggle starts of what to make for lunch i was really craving some cheesy bread but more like the ftera style, i didnt want it to feel like a real bread but more like something light and flaky, so i was like ok why not mixing both ? and by that i used a bread dough recipe and a ftera making method.
rolling out the dough, fill it with cheese and onion, rolling up then twisting it to a snail shape is a fun process for me and the magic happens when you start rolling out those snails again to a flat round shape bread to be cooked in a hot melted butter and olive oil, you will get a crispy surface with soft rich center.
this flat bread recipe is ideaم for Mediterranean style breakfasts and brunches, all you need is to serve it with some Labenh cheese ( you can try my super simple recipe here ), Olives, some fresh veggies like tomatoes and cucumbers, also the spicy Libyan Harisa will be perfect along with Mint tea.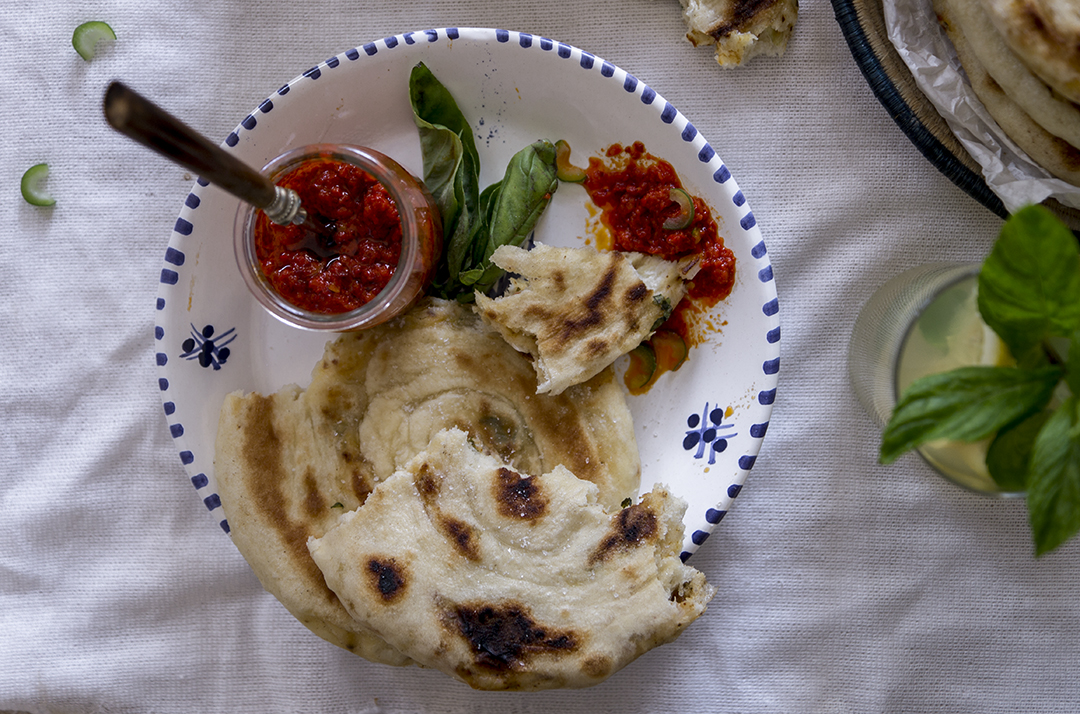 Ingredients:
For the dough
3 cups bread flour
1 Tbsp. salt
1 Tbsp. yeast
½  cup plain yogurt
¾ cup warm water (more or less depending on you're the flour you are using)
For the filling
1.5 cup cheddar cheese
¾  green onion ( finely chopped )
¼ cup chopped basil leaves
1 Tbsp. Tunisian smocked paprika ( or any smoked paprika you like )
For cooking
¼ melted butter
3 Tbsp. olive oil
Method
In the bowl of your stand mixer ( using the kneading hook ) mix together the flour, salt, yeast and yogurt then start adding water slowly while the machine is mixing till you get a soft dough but not sticky.
Cover with a plastic wrap and leave in a warm place to double in size, about 1.5 hours.
In a separate bowl mix the filling ingredients well and set aside.
Dust a clean surface with some flour, get your dough on it and cut it into 6 equal size parts, roll out each part into a rectangular (about ½ cm thick) spread some of the filling on it then roll it up from the long side to form a log, now start twisting it around itself to form a snail shape.
Repeat the process with all 6 parts, cover with a clean kitchen towel and allow them to rest for 30 minutes.
In a small bowl, mix melted butter and olive oil and set aside, flatten each snail shaped bread into a circle (about ½ cm thick), brush both sides with oil and butter mix then cook it on a very hot skillet (frying pan) for 2 minutes on both sides.
Served warm with your choice of appetizers