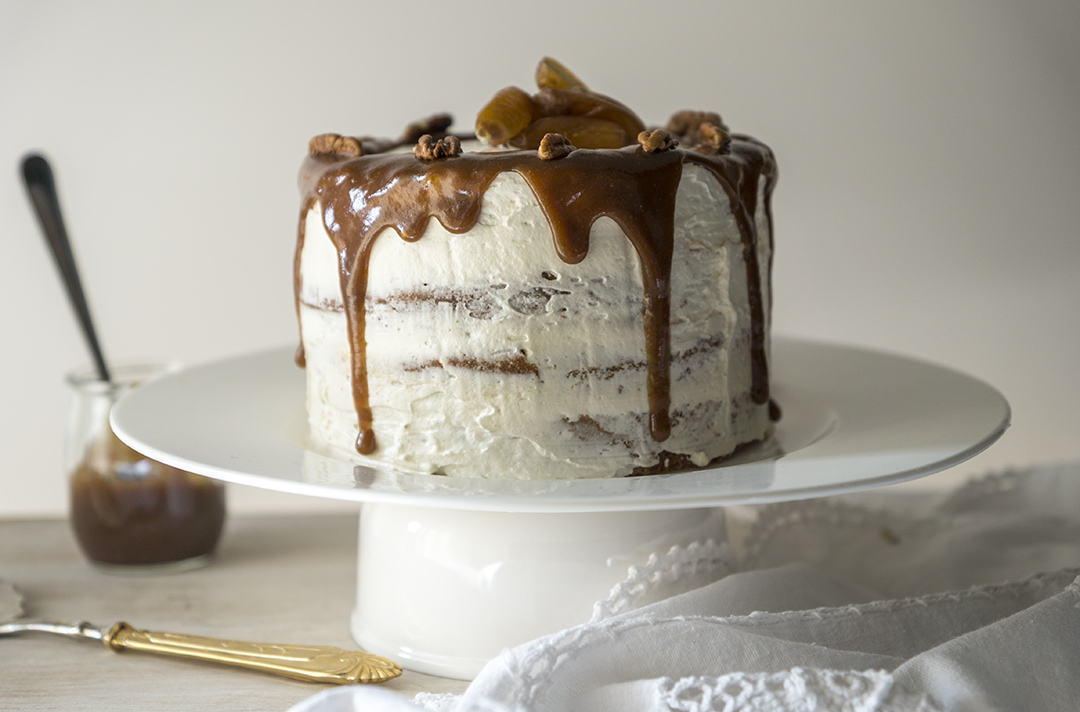 date cake with meringue buttercream
since its Ramadan, i have alot of Dates in my fridge, and to be honest i am getting bored of the typical ramadan desserts with alot of sugar syrup, Qishta and so on, so i was trying to come up with something new using dates but at the same time not the typical desserts.
i have tried a recipe i found online for Sticky Date cake from this website ( clean eating ), it was nice and moist ( had to change few things in it ) then it hit me to make a change to it using maybe toffee!  and because i'm not a big fan of whipping cream i thought of challenging my self into a new type of creams and maybe combine date flavor which is super eastern with something super western! Swiss Meringue buttercream sound nice, a bit complicated to make that i had to memorize the steps over and over lol but the result was NICE! like as my blogger friend majid said  ( You've outdone your self ) i'm so proud that i could win the challenge into making something i thought can only be done by super chef's :)))))
this cake is very rich with flavors, i must say! all you need a small slice with espresso or american coffee to enjoy it the max!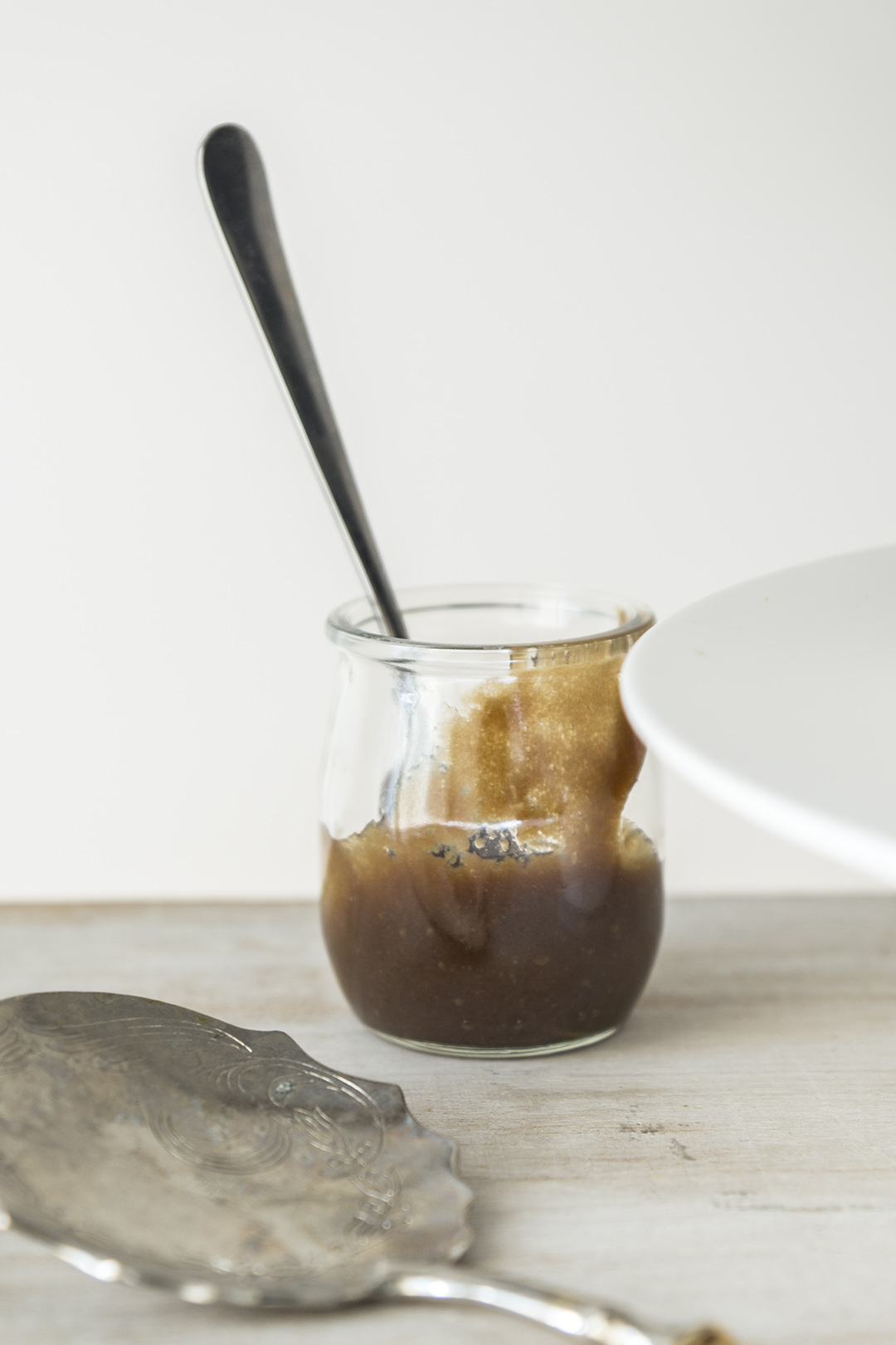 i made my toffee using dark brown sugar coz that what i had in hand so just follow the recipe and the result might be a little lighter in color than this.
the toffee adds magic to this recipe i swear! dates and toffee are perfect couples lol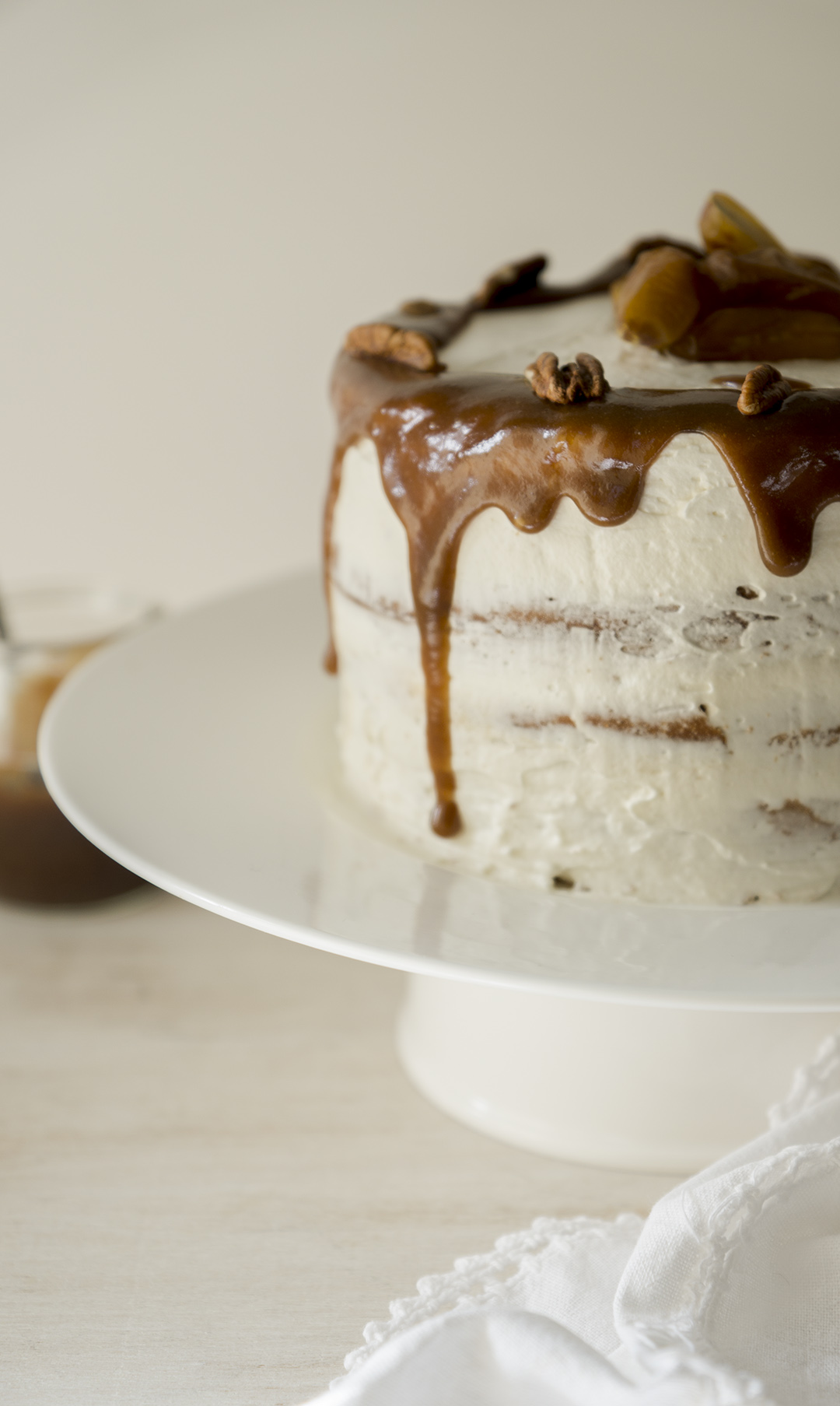 Ingredients:
( For the cake )
3 eggs
¾ cups sugar
½ cup vegetable oil
½ cup plain yogurt
2 cup flour
½ tsp. bicarbonate sodium
½ tsp. cinnamon
¼ tsp. ginger ( powder )
1 ¼ cup dates chopped
1 cup boiling water
½ pecan
 ( For the toffee )
¼ cup white sugar
¼ light brown sugar
½ cup butter
½ cup double cream
( For the  meringue butter cream )
2 egg whites
½ cup white sugar
¾ cup butter at room temperature
( Sugar syrup )
Method:
Pre-heat oven to 140 C, rack in the middle and grease 2 cake pans ( 12 cm ) with some butter then dust with flour and put a piece of parchment paper on the bottom to make it easier to get the cake out.
Pour boiling water over the dates in a small bowl and set aside to cool down for 10 minutes.
In a separate bowl whisk all dry ingredients and set aside.
In your electric mixer, beat eggs and sugar till pale in color, add oil beat a bit then add the yogurt, then dry ingredients and mix using a spatula till all well combined, add dates with the soaking water, mix well then add pecans.
Divide the batter between pans and bake for 30 minutes or until a toothpick comes out clean.
Allow the cakes to cool down completely on a wire rack.
Make the toffee buy mixing all ingredients in a sauce pan over a medium heat and let it simmer for 3-4 minutes ( or till its thick enough ) then take it off heat and allow to cool to room temperature.
Place egg whites and sugar in the bowl of an electric mixer, Whisk by hand to combine then place it over a saucepan filled with some boiling water to create a double boiler.
Keep stirring for some time till u can feel the mixture is hot when u try to dip your finger, take it off the pan and place it in the electric mixer, beat the mixture till the bowl turns back to normal temperature, now start adding the butter one tablespoon at a time, turn the mixer to medium speed till the cream becomes smooth.
Slice each cake to 3 layers, place the first layer on your cake stand, pour some warm sugar syrup if you the cake to be super moist, if not just skip it, scoop some buttercream and spread it evenly, add a thin layer of toffee then cover with another cake slice and repeat for the rest of cake slices then cover the whole cake with a thin layer of buttercream, so you can still see cake layers, top it with toffee and let it drop down the sides, decorate with some dates and pecan and let it cool down in the fridge for at least 5 hours before serving.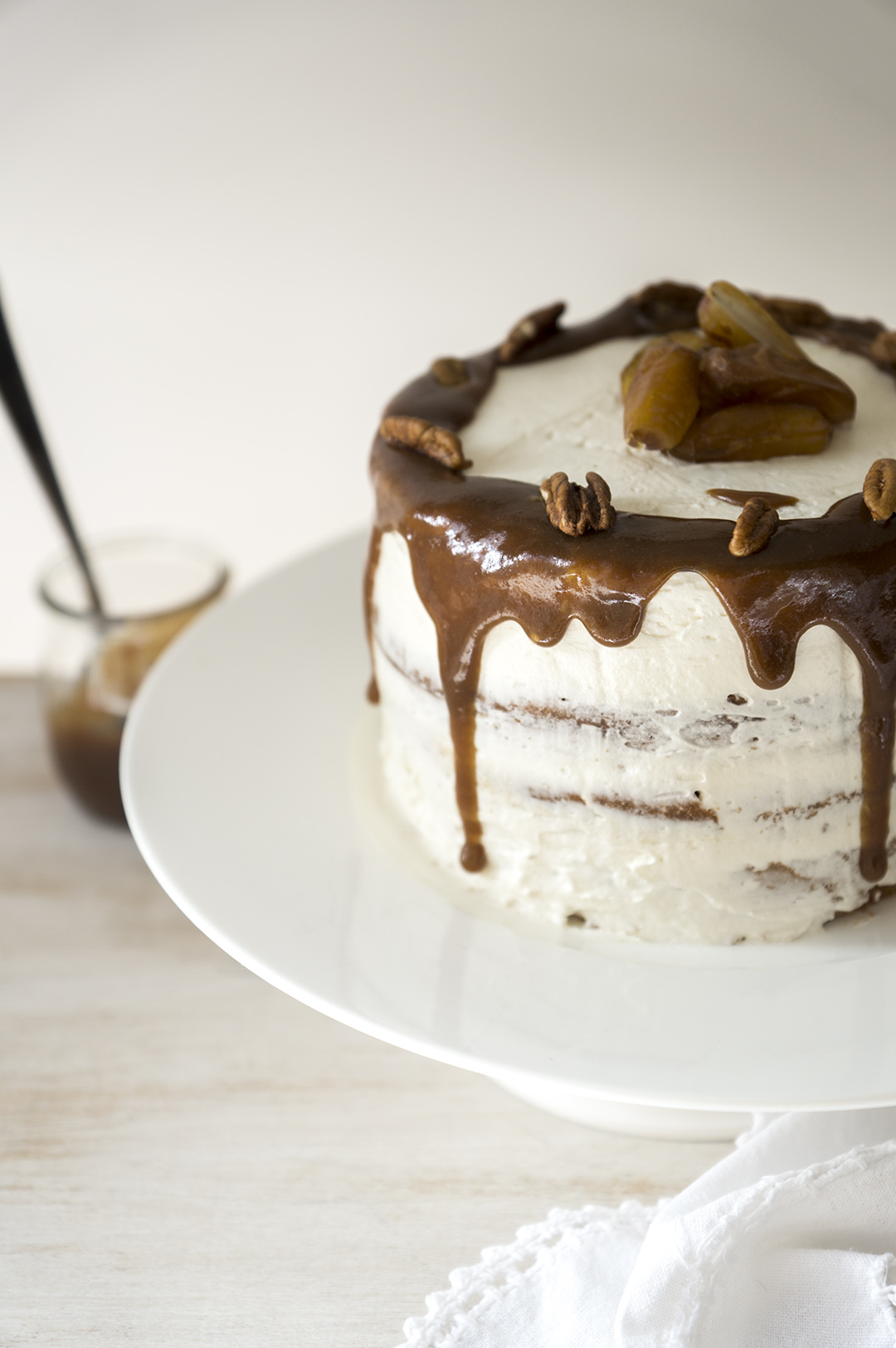 الطريقة :
– الكيكة
نسخنوا الفرن على 160 درجة مئوية و نحطوا الرف في النص، نجهزوا 2 طواجين كيك (قطر 12 سم) ، ندهنوهم بالزبدة و نرشوا عليهم دقيق و نحطوا في القاع ورق زبدة عشان يسهل علينا انطلعوا الكيكة بعدين.
في صحن غارق شوية نحطوا التمر و نصبو عليه المية الساخنة و نخلوه لمدة 10 دقائق تقريبا.
في صحن ثاني ننخلو المكونات الجافة مع بعضها اللي هي الدقيق و البيكاربونات و القرفة و الزنجبيل و نحلوهم على جنب.
بالمضرب الكهربائي نضربو البيض و السكر مع بعض لين يولو زي الكريمة و لونهم قريب للابيض، نضيفو عليهم الزيت و نضربو شوية بعدين الزبادي السادة، نضيفو المكونات الجافة و نحركو يدويا بالسباتولا لين يتكون خليط متجانس بعدها نضيفو التمر بالمية متاعه و نخلطو كويس و بعدين البيكان.
نقسموا الكمية على الطواجين الاثنين و ندخلوهم الفرن لمدة 30 دقيقة او لين تتحمر الكيكة و لما ندخلو فيها عود اسنان يطلع نظيف.
في الوقت اللي الكيكة فيه تبرد على المشبك نجهزوا التوفي و الكريمة.
– التوفي
في طنجرة على نار متوسطة نخلطوا كل المكونات و نخلوهم يغلو مع الاستمرار في التحريك لمدة 3 -4 دقائق او لين نحسو القوام اصبح غليظ، نحولوها من على النار و نخلوه يبرد.
-كريمة الزبدة بالميرانج
في الصحن الخاص بالمضرب الكهريائي ( ضروري يكون يتحمل الحرارة ) نحطوا بياض البيض مع السكر و نحركوهم باليد كويس بعدين نحطوهم فوق طنجرة فيها كمية بسيطة من الماء تغلي على النار ( بحيث سطح الماء لا يلامس الصحن ) و نستمروا في التحريك بالشوية لغاية ما يسخن الخليط يعني لما نحطوا فيه صبعنا نلقوه ساخن.
نحولوه من عالنار و نردوه للمضرب و نضربوه لغاية ما يتكون عندنا ميرانج او لين حرارة الصحن ترجع عادية، نضيفو الزبدة تدريجيا بعدين نزيدو السرعة  لغاية ما يصبح قوام الكريمة ناعم.
-أخيرا الكيكة
نقصوا كل كيكة 3 طبقات او 3 شرائح متساوية و نحطو اول طبقة في قاعدة الكيكة و نشربوها شوية بالشربات لو تحبوا الكيكة تكون رطبو زيادة لو لا تقدرو تستغنوا على الشربات في الوصفة!، نحطوا شوية من الكريمة و نساوها بعدين طبقة من التوفي و نكررو العملية مع كل طبقات الكيكة لين تكمل و نغلفوها بالكريمة بطريقة خفيفة عشان تبان الكيكة و الطبقات و نصبوا التوفي من فوق بحيث ينزل من الأطراف، و ممكن تتزين بشوية تمر و بيكان من فوق.
نحطوها في الثلاجة لمدة لا تقل عن 4-5 ساعات .
المقادير :
( الكيكة )
3 بيضات
¾ كوب سكر
½ كوب زيت نباتي
½ كوب زبادي سادة
2 كوب دقيق
½ م.ص بيكاربونات الصوديوم
½ م .ص قرفة
¼ م.ص زنجبيل
1 ¼ تمر مقطع مكعبات
1 كوب ماء مغلي
½ كوب بيكان او لوزخزايني
( التوفي )
¼ كوب سكر ابيض
¼ كوب سكر بني
½ كوب زبدة
½ كوب قشطة
( كريمة الزبدة بالميرانج )
2 بياض بيض
½ كوب سكر
¾  كوب زبدة بحرارة الغرفة
( شربات سكر )
——————————————————————————————