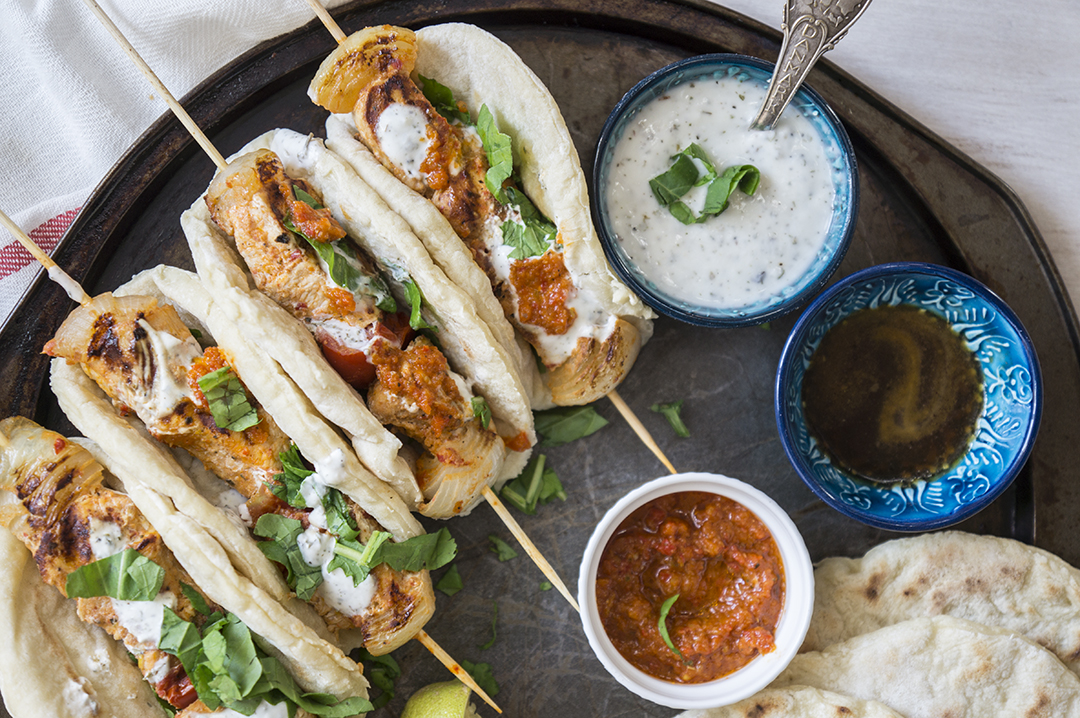 Peri Peri grilled chicken sandwiches
OK so to be honest i'm not a big fan of spicy food, so i make my peri peri sauce medium hot, its just i think when its too spicy or lets say too hot it kills the flavor, its more like a fire in my mouth and i taste NOTHING lol
so anyways, i used the sauce to marinate the chicken, it became super tender, grilled it for like 3 minutes on each side and the taste was amazing, sour, hot and moist chicken.
i have posted a recipe on my super easy flat bread, typical Arabic bread that i usually use as a quick solution for sandwiches or even to complete a dipping dish, that worked perfectly for this grilled chicken recipe and to complete the flavor i added garlic yogurt sauce to it and voila! then best sandwich everrrr !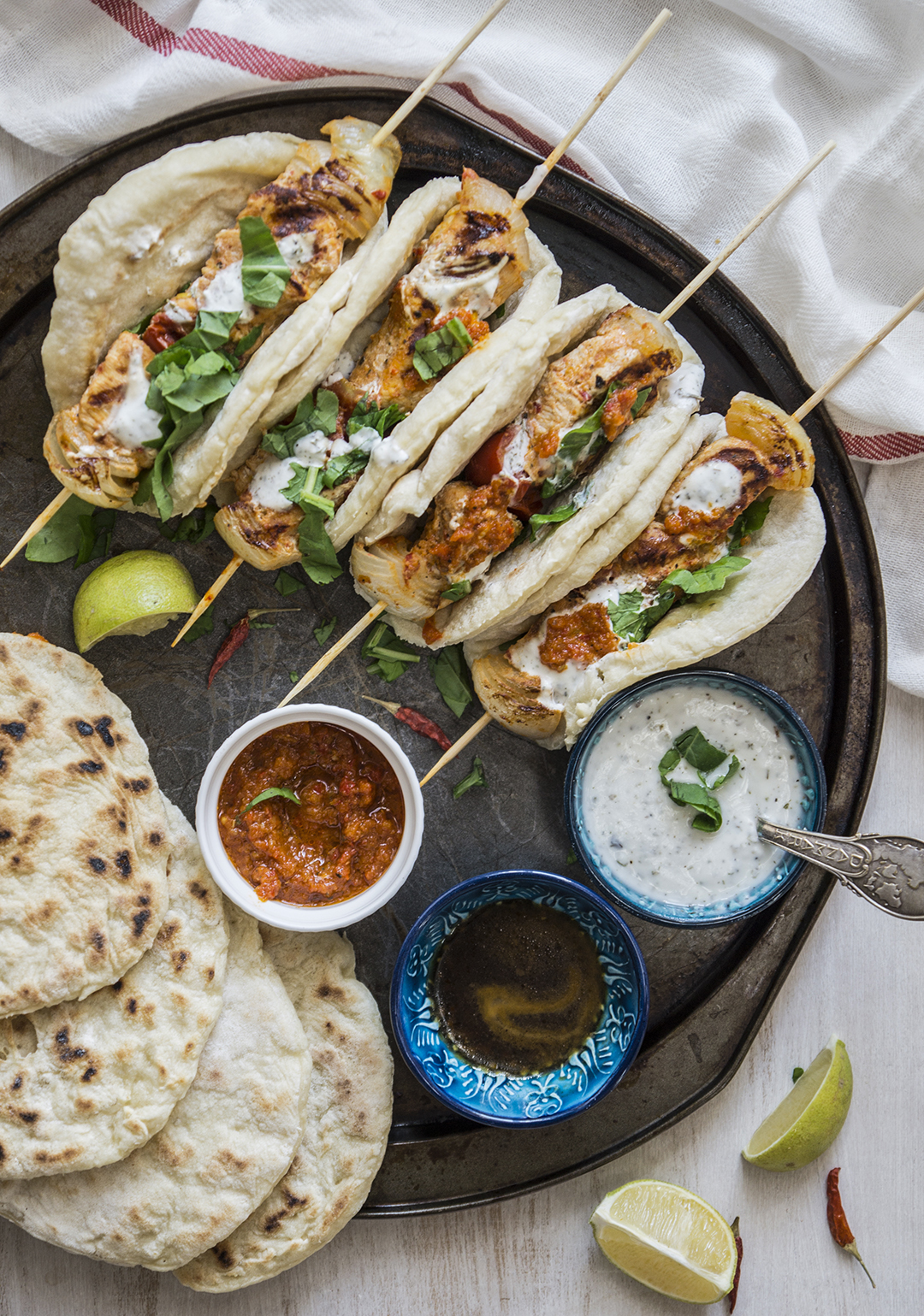 Ingredients:
500g chicken breasts
½ cup peri peri sauce
¼ tsps. Salt
¼ tsps. Black peppers
2 medium size onions
2 green peppers
2 medium tomatoes
3 Tbsp. olive oil
(Garlic yogurt)
1 cup plain full fat yogurt
¼ tsps. Garlic powder
1 tsps. Dried mint
Pinch Salt and pepper
2 Tbsp. olive oil
Method:
Cut the chicken, onion, pepers and tomatoes into cubes nearly same size ( about 2X2X2 cm ) and put them all in a deep bowl, add the rest of ingredients ( sauce, salt, pepper, garlic powder and oil) and mix well.
Cover and let it set for at least 2 hours so chicken get tender by the effect of the vinegar in the sauce.
Make your garlic yogurt by mixing all ingredients together in a small bowl and set a side.
After 2 hours, get your grill sticks filled with chicken, tomato, pepper and onion cubes in a nice way ,  don't over fill them coz each stick will make a sandwich, grill them on a hot grill for 3 minutes on each side .
Make the sandwiches by using one flat Arabic bread for each grill stick, add some garlic yogurt and more Peri Peri sauce then some salad leaves or even rocket leaves will work perfectly here.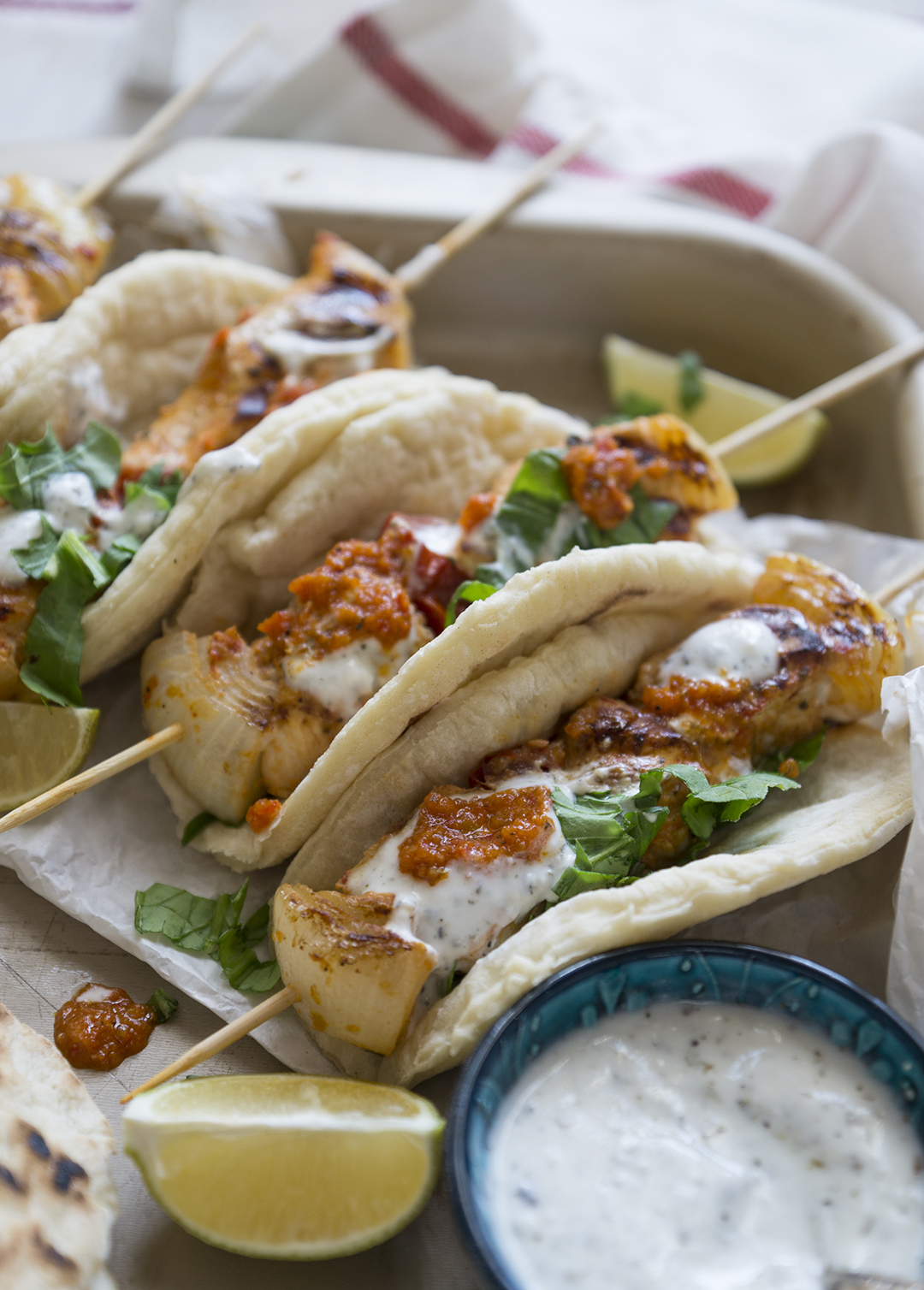 الطريقة:
نقطعوا الدجاج و البصل و الطماطم و الفلفل مكعبات متساوية ( حوالي 2 سم ) و نحطوهم في صحن مع باقي المكونات ( الصوص و الملح و الفلفل و الزيت ) نحركوهم كويس و نغطوهم لمدة اقل شي ساعتين عشان الدجاج يولي رطب من الخل الموجود في صوص البيري بيري.
نجهزو صوص الزبادي، نخلطو المكونات مع بعضها كويس و نخلهوا على جنب.
نستعملو الاسياخ الخشبية للشوي و نحطوا الدجاج و الخضار فيها بطريقة متناسقة و ما نعبوهاش هلبة لان كل وحدة حدير ساندوش، نشوهم عالشوية بس تكون سخونة، تقريبا 3 دقايق على كل جهة .
نحطوا كل سيخ علي خبزة و عليهم صوص الزبادي و ممكن زيادة من صوص البيري بيري و شوية ورق خس او ممكن جرجير.
المقادير :
500 جرام صدور دجاج
½ كوب صوص البيري بيري
¼ م.ص ملح
¼ م.ص فلفل اسود
2 بصل متوسط الحجم
2 فلفل حلو اخضر
2 طماطم متوسطة
3 م.ك زيت زيتون
صوص الزبادي بالثوم :
1 كوب زبادي سادة كامل الدسم
¼ م.ص ثوم بودرة
1 م.ك نعناع جاف
2 م.ك زيت زيتون
you will need for this recipe