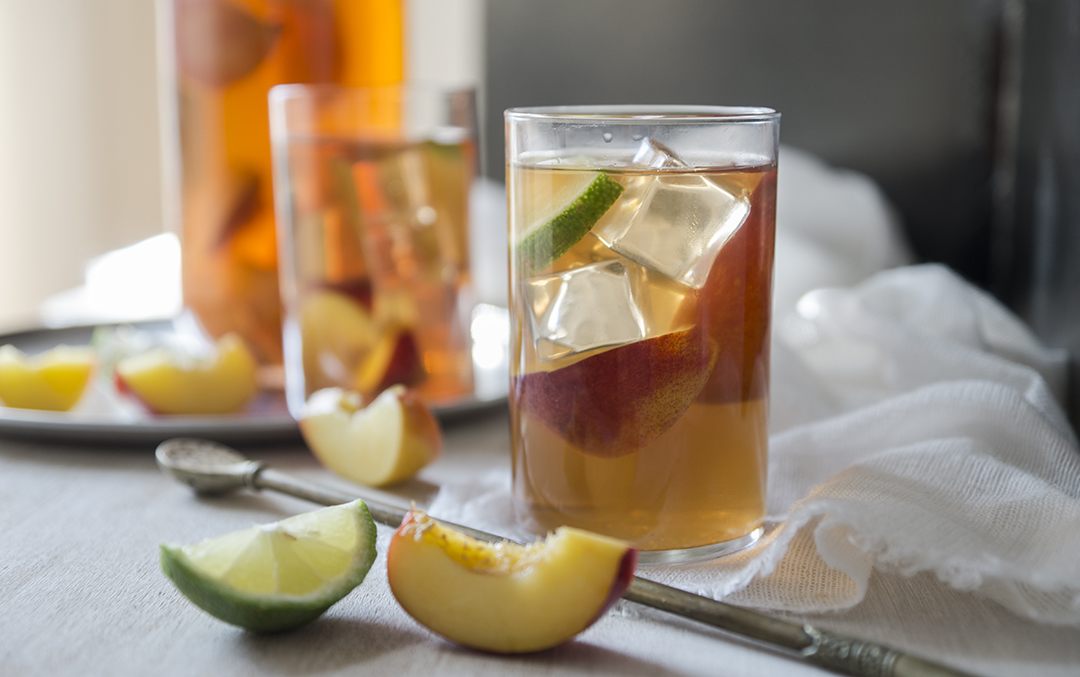 I can call this drink, my Husban's favorite drink, he would have it with any meal, and yes for him it can be replacing water lol.
when i first got married ( not toooo long ago just 10 years ago lol ) we used to bring ice tea ready to make powder packages from italy and i remember i used to panic when we are about to run out of them coz it means i have to wait till my mother-in-law comes for a visit or until we go there again, so i was just thinking about it, what would be so special in it that i cant make at home?!!!…
thank you dear GOOGLE, i got few recipes and it turned out a piece of cake!, so so easy to make and you can play with flavors the way you want, our favorite is Peach!
its Tea, cold and fruity …. what would anyone ask for more than this ??
Ingredients:
1.5 L boiling water
4 Tbsp. sugar
2 bags black tea
2 medium size beaches
Ice cubes
Method:
In a tea pot let water and sugar boil for 5 minutes on a low heat, turn off the heat and add the tea bag, leave then in for about 10 minutes then get rid of the tea bags coz you don't want the tea to be too strong.
Slice your peaches and put then in a good size glass jug ( heat resistance )  pour all your tea over it and allow to cool to room temperature for few hours then leave in the fridge for at least 4 hours, add the ice when serving.
الطريقة:
في براد الشاهي العادي نحطو المية و السكر و نخلوهم يغلو على نار هادية لمدة 5 دقايق، نطفو النار و نحطو أكياس الشاي و نخلوهم لمدة 10 دقايق عشان ما يجيش الشاهي داكن و قوي .
نقصو الخوخ شرايح و نحطوه في مالقي زجاج يتحمل الحرارة، نصبوا عليه الشاهي و هو مزال اقل شي دافي، نخلوهم يبردو في حرارة الغرفة بعدين في الثلاجة اقل شي 4 ساعات، و نضيفوا الثلج وقت التقديم.
المقادير:
1.5 لتر ماء مغلي
4 م.ك سكر
2 أكياس شاي
2 خوخ حجم متوسط
مكعبات ثلج