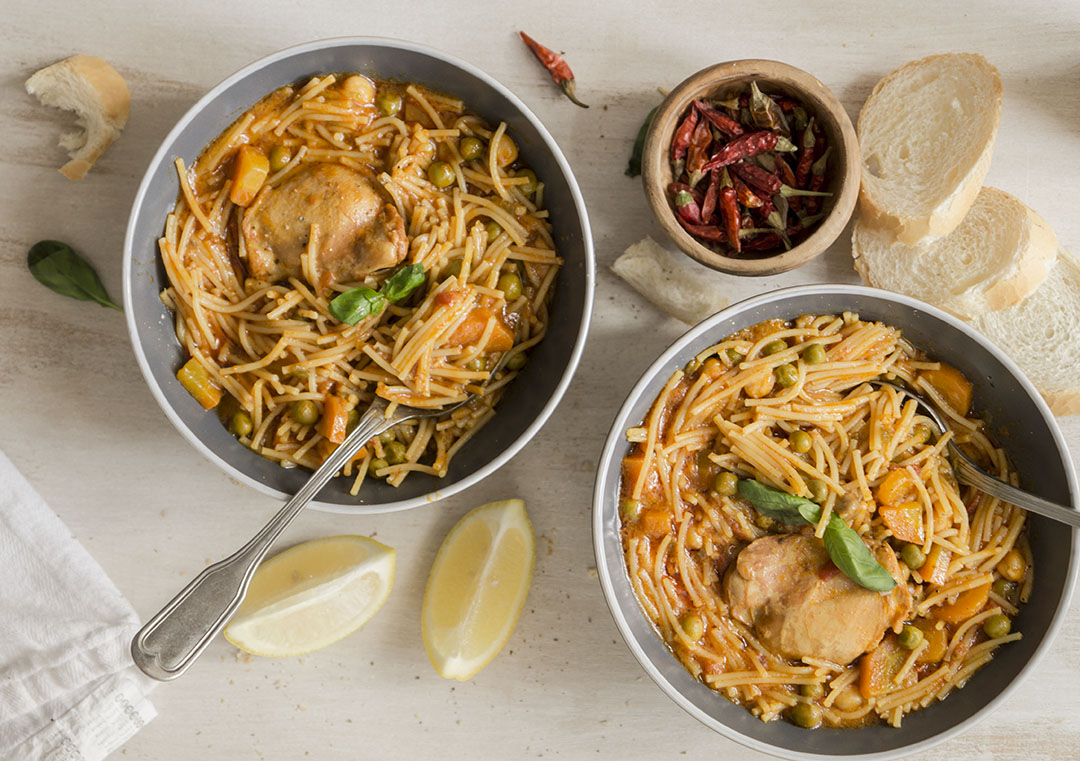 Embakbka ( libyan pasta soup )
clearly from the  name it is Italian Cuisine related! i think ( just a personal opinion based on some of the history info i know about my beloved coutry)  that we got the pasta dishes inspiration from italians back when they were here, we added the libyan touch and twist it to become pure libyan dish that belongs to Libya.
there are many dishes like this in italy with different ingredients, simply a pasta cooked in the sauce instead of cooking each apart then mix,BUT libyans made it their own way, using libyan spices and i must say this is a VERY VERY popular dish all over the country, its like the simplest and fastest meal everybody loves it.
i made mine with chicken,i just like adding whatever veggies i have specially when it is winter, it can be made with fish, seafood and any type of red meat.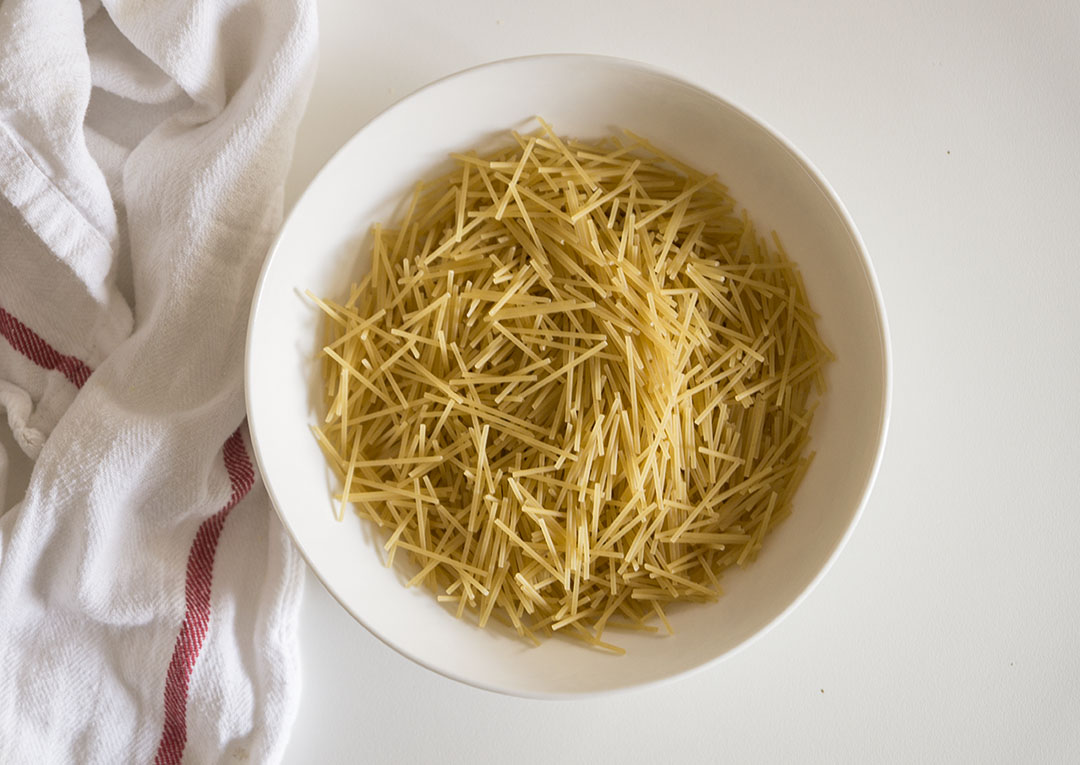 for this recipe you can use any type of pasta you like but for me i prefer it with spaghetti, it has to be broken into small size coz after all its some how a soup and will be eaten by A SPOON you know lol.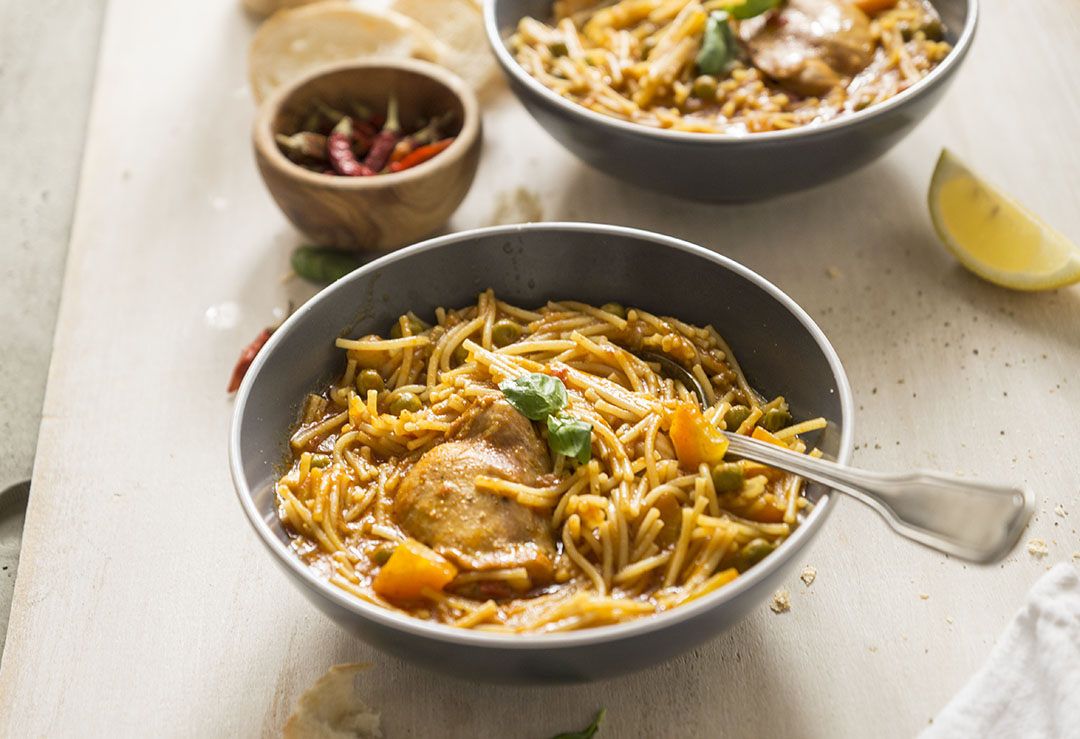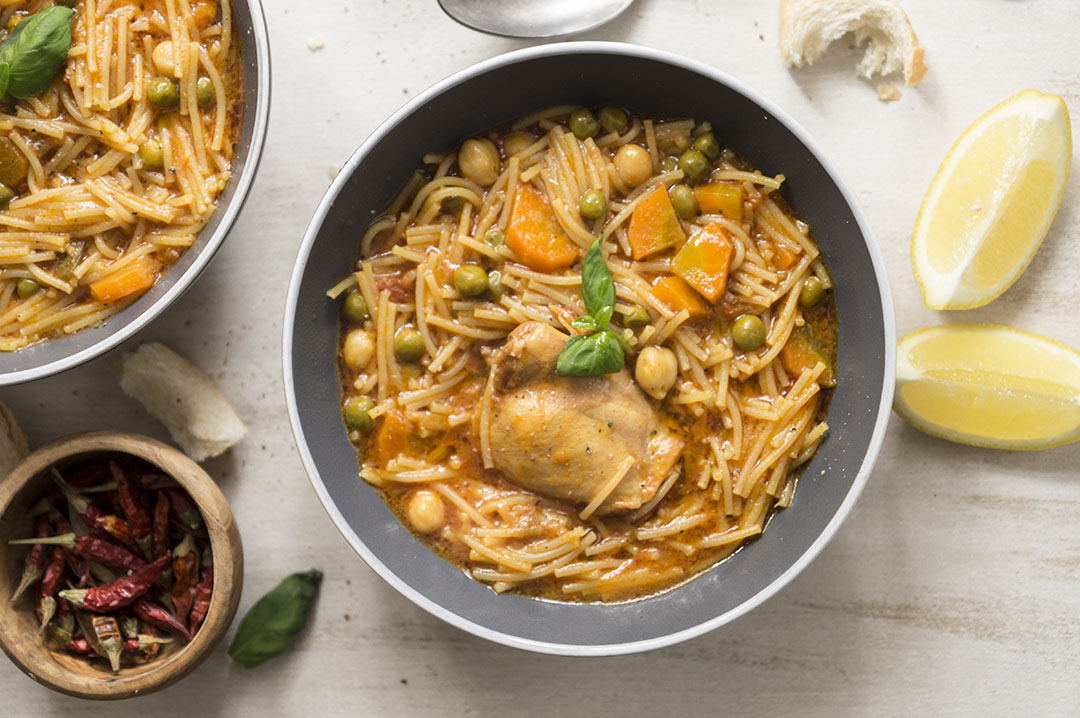 Ingredients:
3  small chicken pieces ( mostly with bones )
250 spaghetti ( broken into small size )
¼ cup vegetable oil
1 small size onion ( finely chopped )
2 cloves of garlic ( finely chopped )
½ cup tomato puree
1 tsps. Salt
3 Tbsp. tomato paste
½ tsps. Turmeric
½ tsps. Paprika ( red chilli powder )
¼ cup carrots ( cut into small pieces )
¼ cup green peas
Hand full of basil leaves
About 2 Litters of hot water
Method:
In a deep sauce pan heat the oil then add onion and garlic, stir for 2 minutes, add chicken, tomato puree, salt, turmeric, paprika, peas and carrots, keep stir a bit and let it cook for 3 minutes till it starts to form oil bubbles on the surface.
Now add 1.5Lt water ( save the rest for later if needed ), bring to boil, cover and leave to cook on a low heat for an hour ( or till the chicken is tender ).
Once the chicken is tender add the pasta, stir from time to time so it wont stick (add more water if needed ), let it cook for the pasta cooking required time then turn off the heat, add basil and cover for 5 mintures , serve immediately while hot.