we all know its not Ramadan without mhalabia on the table special for Suhur, i just love how thick and creamy they are, too many different flavors and decorating styles.
i remember the first time i tried this recipe was at my parents house made by their old friend, that was YEARS ago but i still remember how good it tasted, i made a little twist to it by adding 2 tablespoons of sugar to the basic ingredients and i just like to serve it as individual glasses or cups.
what i love about this Semolina Mhalabia is the creamy rich texture yet you can control how sweet you want it by adding the amount of sugar syrub or honey you desire.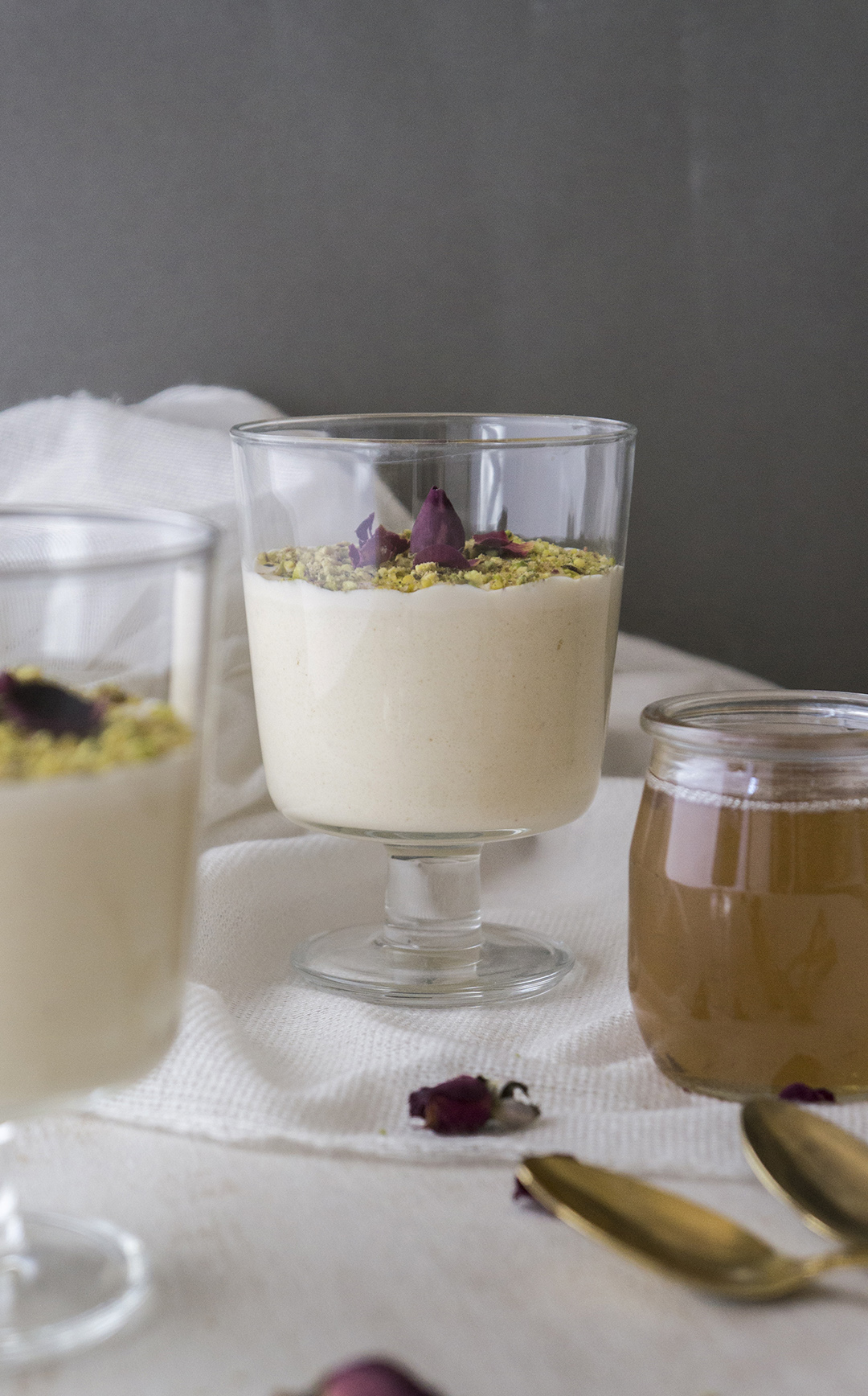 Ingredient:
6 cups full fat milk
2 Tbsp. sugar
1 cup fine semolina
1 egg
1.5 cup cream
2 tbsp. Geranium water
Sugar syrup or honey
Pistachio for decoration
Method:
In a saucepan whisk together milk, sugar, semolina and egg till well incorporated, continue stiring on a low heat till it becomes nicely thick.
Take it off the heat and add half the amount of cream, Geranium water and stir well, pour into serving glasses and set aside to cool down.
Add a layer of the remaining about of cream to each glass and decorate with some pistachios, let them cool down in the refrigerator for at least 3 hours.
Add sugar syrup or honey when you serve them.
الطريقة :
تخلط المكونات ( حليب و سميد و سكر و البيضة ) على نار هادية لغاية ما تختر … نضيفوا عليها نصف مقدار القشطة و العطر او المستكة .. نحركوهم كويسو نصبوهم في الكيسان و نخلوهم لين يبردوا بحرارة الغرفة و بعدين يتزينو بطبقة رقيقة من القشطة السادة ( النصف الثاني ) و الفستق
نحطوهم في الثلاجة لين يبردوا كويس و ينزاد عليهم العسل او الشربات وقت التقديم حسب الرغبة.
المقادير :
6 اكواب حليب كامل الدسم
2 م.ك سكر ( ممكن من غير )
1 كوب سميد ناعم
1 بيضة
1.5 كوب قشطة مقسمة نصفين ( نصف للتزين )
ماء عطر
عسل او شربات ( قطر )
فستق للتزيين