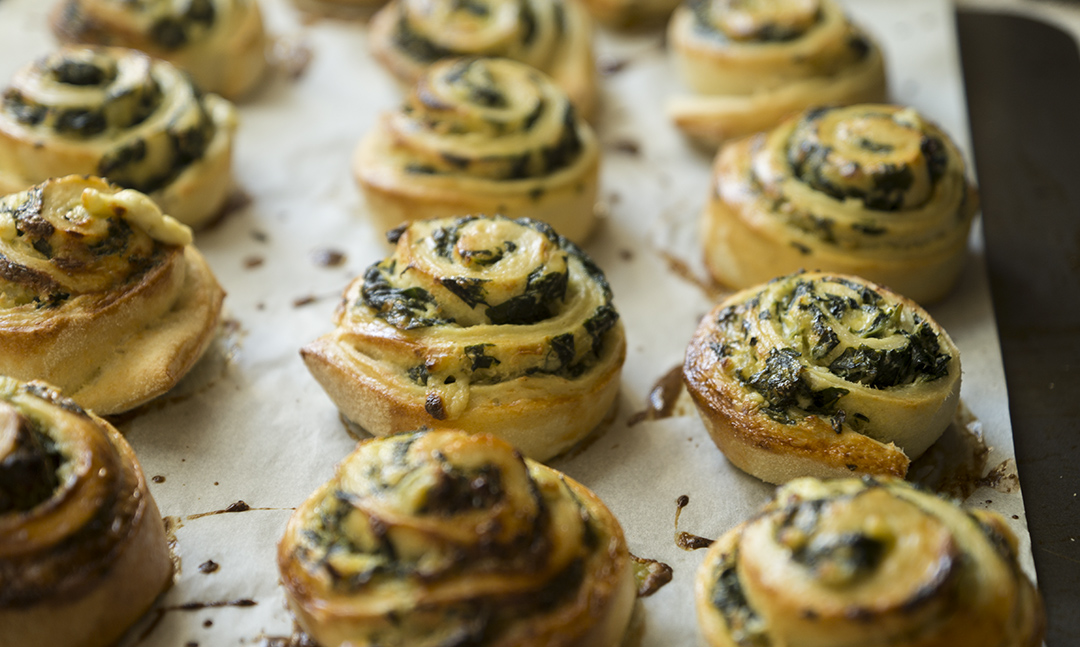 ever since i discovered this magically soft dough, i started playing with fillings, the dough is so soft and it welcomes any kind of filling you chose, just PERFECT!
so away from all the meat we ( the Arabs ) love to use, i'm a big fan of feta cheese and i find it perfect with spinach, i think this is something Greek! but its just yumy in my tummy and so appetizing !!!!, specially the feta has that salty taste that makes me wanna eat more!
these rolls are ideal for any occasions, i use them for brunch, side dish for lunch and they make perfect snack for picnics.
Ingredients:
1/2 basic dough
( filling )
5 cups spinach leaves
1 medium size onion ( chopped )
1 garlic glove
2 Tbsp. olive oil
2 Tbsp. butter
¾ cup feta cheese
1/3 cup cream cheese
Pinch of salt and black pepper
1 egg yok
2 Tbsp. milk
Method:
Follow the basic dough recipe and while its resting make the filling and allow it to cool completely before using.
To make the filling, in a sauce pan heat the oil, add the butter, chopped onions and garlic, stir till they become soft and golden.
Add the spinach, salt and pepper, stir till all the leaves starts to change in color and their water comes out, lower the heat and leave it uncovered to allow all liquids to evaporate, turn off the heat and leave it to cool in room temperature.
After the spinach mixture is completely cooled add the feta and cream cheese, mix well and set a side.
Pre-heat the oven to 160C, rack in the middle and prepare a baking tray with parchment paper.
Roll out the dough into a rectangular about 1/2 cm thick, spread the filling all over it then start rolling from the longer side, cut the roll into slices about 1.5 cm thick and place them on the tray leaving some space between each.
Mix egg yok and milk and brush each roll a bit to give it a cool while baking, bake for 30 mins or until golden brown, allow to cool on a wire rack before serving.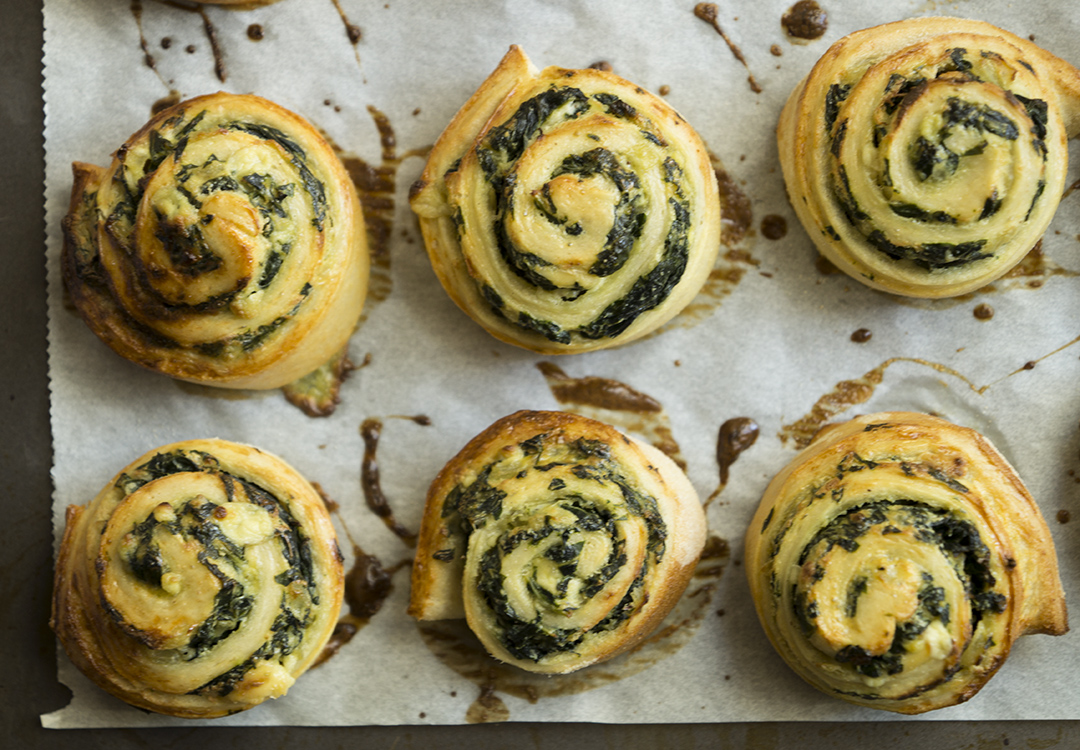 الطريقة:
اول شي نجهزوا العجينة ( الوصفة )
في الوقت اللي العجينة ترتاح فيه نجهزوا الحشوة، في طنجرة عالنار نسخنوا الزيت و نحطوا الزبدة و البصل و الثوم و نحركوهم لين يذبلوو يتغير لونهم للذهبي شوية، نزيدوا السبانخ و الملح و الفلفل و نحركوا لين يذبل السبانح و يبدا يطلع في اميته، نخلوه على نار متوسطة او هادية لين تتبخر كل السوائل اللي في الطنجرة.
نحولوه من عالنار و نخلوه يبرد في حرارة الغرفة، بعد ما يبرد تماما نزيدوا عليهم الفيا و جبنة الكريمة و نحركوهم كويس.
نسخنوا الفرن على 160 درجة مئوية، الرف في النص و نجهزوا طاجين عليه ورقة زبدة.
نفردوا العجينة على شكل مربع بسمك ½ سم تقريبا، نوزعوا عليها الحشوة و نلفوها من الجيهة الطويلة، نقصوها بسمك 1.5 سم تقريبا و نحطوهم على الطاجين، نخلو مسافة شوية بيناتهم .
نحلطو صفار البيض مع الحليب و ندهنو الرولز بيهم عشان يعطيهم لون ذهبي في الخبز، ندخلوهم الفرن لمدة 30 دقيقة او لين يتحمروا، نخلوهم يبردوا على المشبك قبل التقديم.
المقادير:
½ كمية من العجينة الخاصة بالحشو
5 اكواب أوراق سبانخ
1 بصلة متوسطة مقطعة مكعبات
1 ثوم
2 م.ك زيت زيتون
2 م.ك زبدة
¾  كوب جبنة فيتا
1/3 كوب جبنة كريمة
رشة ملح و فلفل اسود
صفار بيضة واحدة
2 م.ك حليب