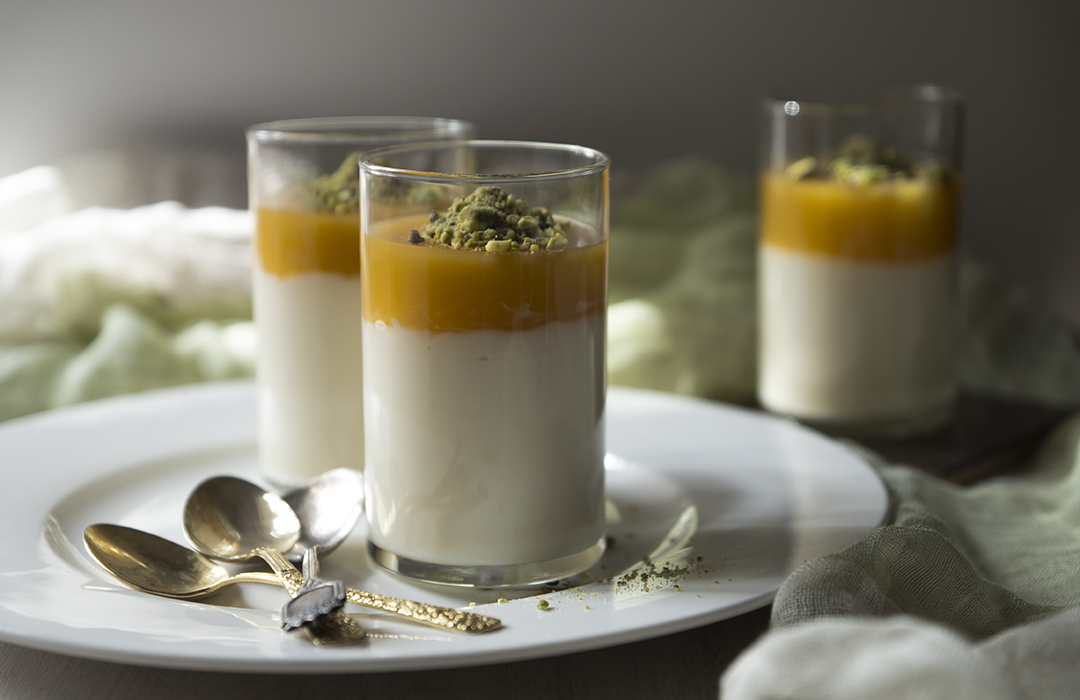 we all know its not Ramadan without Mhalabia as part of the desserts menu,we make it everyday then we get bored of it or at least this is what happens to me!
i have Gammar edden drink in my fridge coz my mother-in-law consider it as a MUST on any Ramadan table lol so i was just thinking of making something similar to Mhalabia but not Mhalabia, Panna Cotta was the best choice then i thought of Gammar Edden as an Arabic touch to it and a ramadany flavor!
its creamy and rich just like any typical Panna Cotta,  the flavor of the Gammar Edden made it completely different, something between an italian dessert and arabic, a bit strong if you r not a big fan of it but it is defiantly a MUST try.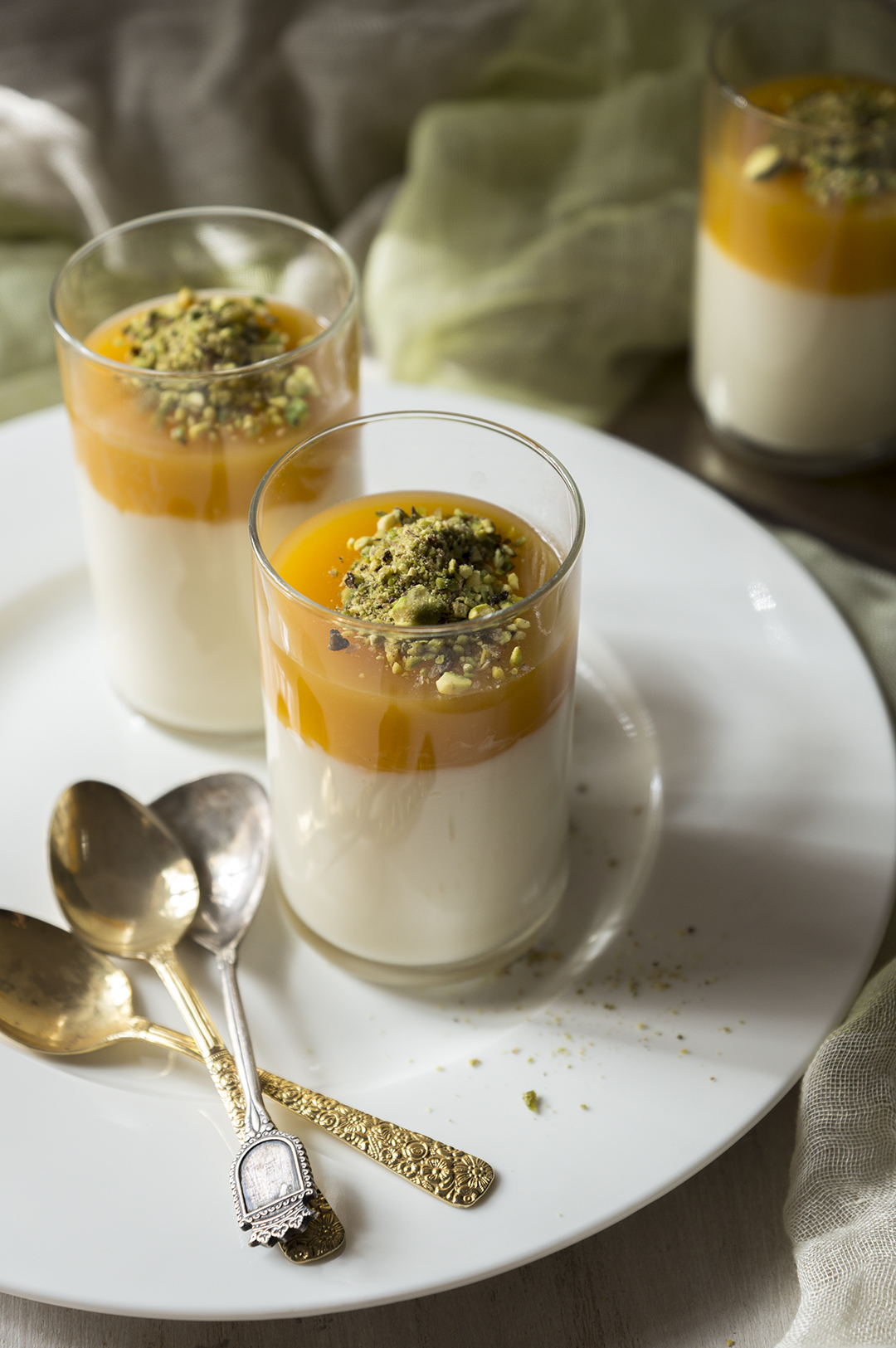 Ingredients:
( Panna cotta )
2 cups full fat milk
1.5 Tbsp. corn starch
2 Tbsp. sugar
1 Tbsp vanilla extract
½ cup double cream
( Qamar edden layer)
1 cup Qamar edden juice
1 Tbsp. corn starch
1 Tbsp. sugar
Pistachios for decoration
Method:
First we make the panna cotta by whisking milk, sugar and corn starch in deep sauce pan till all well incorporated, keep stirring slowing on a medium heat till it starts to thicken, turn off the heat and add the double cream and vanilla.
Pour it into your serving glasses and allow to cool in room temperature.
After the panna cotta is completely cooled down, make the Qammar edden topping.
In a sauce pan whisk all the ingredients together very well then continue stirring on a medium heat for few minutes till it becomes thicker, pour it over the panna cotta and let it cool down to room temperature then leave in the refrigerator for at least 3 hours, add some pistachio on top before serving.
الطريقة :
اول شي جهزوا البانا كوتا، في طنجرة نخلطوا الحليب و النشا و السكر مع بعض كويس و نجطوها على نار متوسطة مع الاستمرار في التحريك لغاية ما القوام متاعها يتغير و تولي غليظة شوية، نطفوا النار و نضيفوا الفانيليا و القشطة و نحركوا كويس.
نصبوها في كؤوس التقديم و نخلوهم يبردو في حرارة الغرفة.
نجهزوا طبقة قمر الدين، نخلطوا المكونات في طنجرة على نار متوسطة او هادية مع الاستمرار في التحريك لين يولي القوام غليظ شوية، نحولوها من عالنار و نصبوها بكميات متساوية على البنا كوتا و نحلوها تبرد بحرارة الغرفة، بعدين نحطوها في الثلاجة لمدة اقل 3 ساعات و تتزين بالفستق في وقت التقديم .
المقادير:
( بانا كوتا )
2 كوب حليب كامل الدسم
1.5 م.ك نشا ذرة
2 م.ك سكر
1 م.ك فانيليا
 ½ كوب قشطة
( طبقة قمر الدين )
1 كوب عصير قمر الدين
1 م.ك نشا ذرة
1 م.ك سكر
فستق للزينة