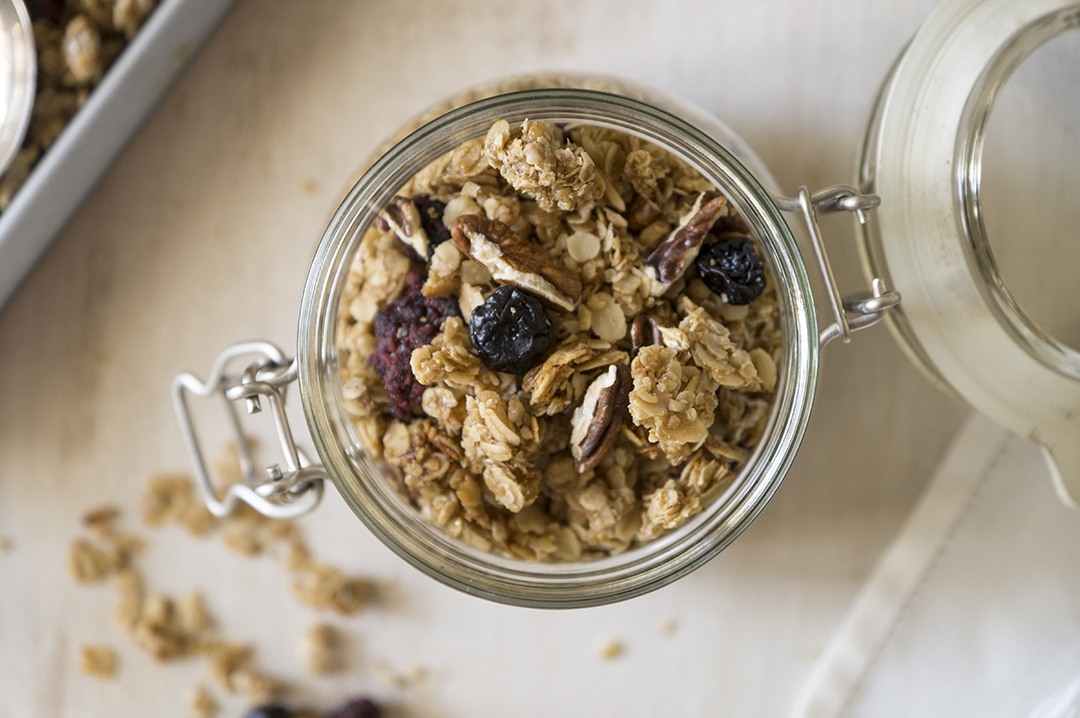 GRANOLA, i think the recipes to make a perfect Granola are endless, i like mine crispy, some like it chewy, also the ingredients are completely different between recipes.
for some reason its always related to breakfast, i think it should be eaten as a good healthy breakfast lol i just have it as a dinner, its the perfect meal for me, i layer it with yogurt, fresh and dried fruits or whatever i have at home by then, some honey and i sleep with a happy tummy!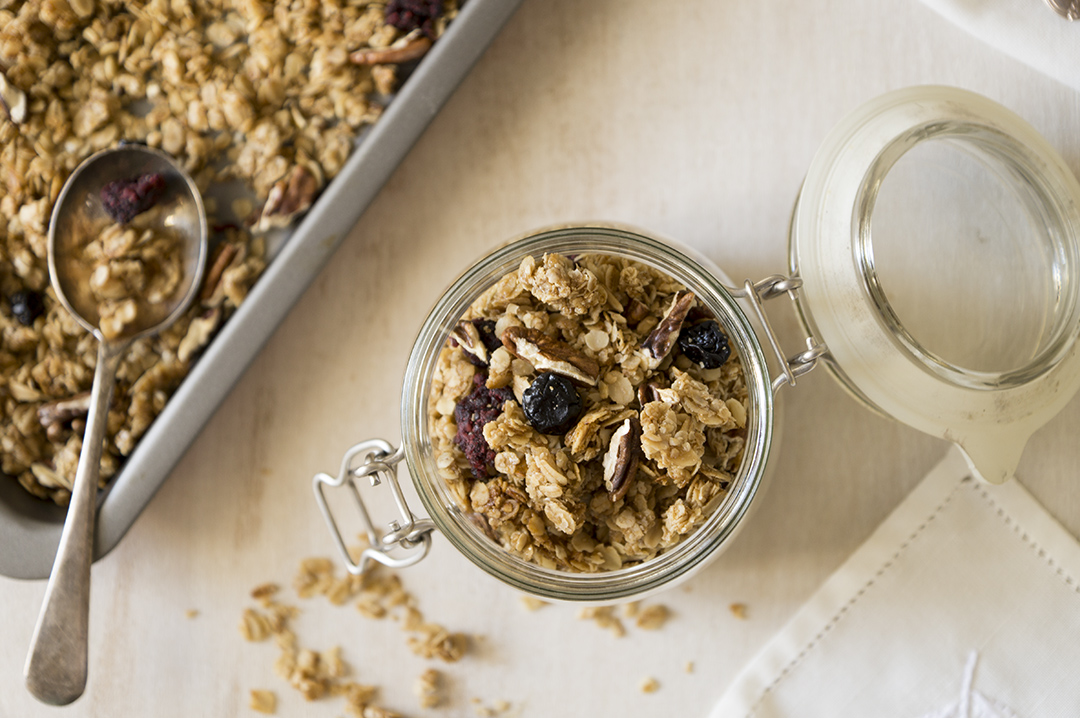 Ingredients:
500g rolled oats
½ cup butter
½ cup maple syrup
2 Tbsps. dark brown sugar
4 Tbsps. white sugar
¾ cup pecan ( or any nuts )
½ raisin ( or any dried fruits )
¼ cup coconuts
Method:
Pre-heat the oven to 180C, back the oats for few mints till they turn a bit golden ( you don't wanna over bake them because they will finish baking later )
Meanwhile mix butter, maple syrup, 2 types of sugar in a small sauce pan over low heat till they melt but do not let them mixture boil ( or simply use the microwave ).
When the oat get golden get them out of oven and mix them well with butter mixture while all are still hot ( or at least warm ) then add the coconut and nuts, mix well and lay it as a layer on a baking tray, bake till golden brown.
After the oats cooled add your dried fruits, store in a good jar in a dry place.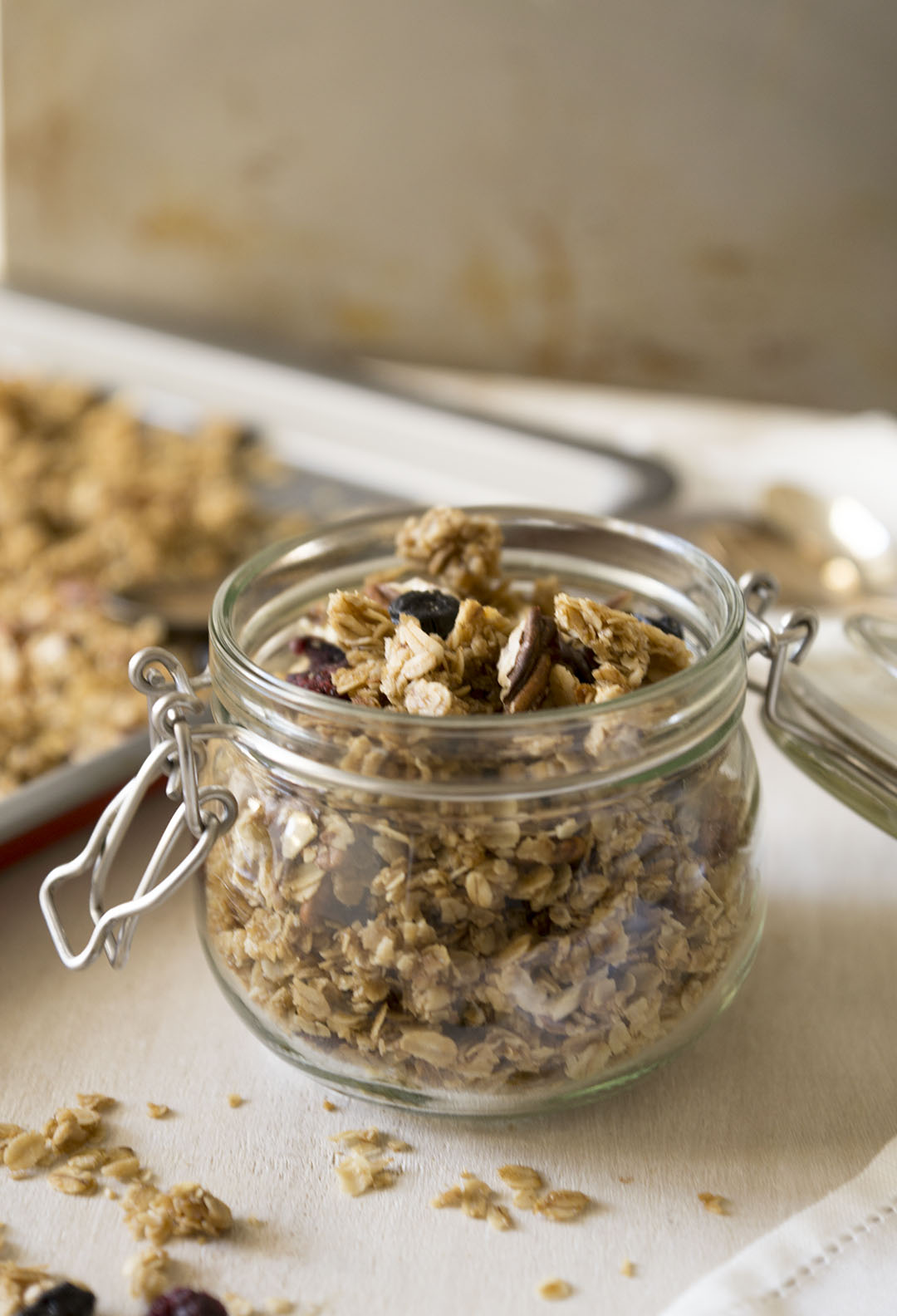 الطريقة:
نسخنوا الفرن على 180 درجة مئوية و نطيبوا الشوفان لعند ما يتغير لونه للذهبي ( ما نطيبوشي هلبة لان حنكملوا تطييبه بعدين )،
في الوقت اللي الشوفان في الفرن، نذوبوا الزبدة و الميبل سيروب مع السكر البني و الأبيض في طنجرة على نار هادية ( ما تخلوشي يغلي ) او في المايكرويف و لما يجهز الشوفان نطلعوه من الكوشة و نحلطوه مع خليط الزبدة كويس بعدين نزيدوا البيكان و جوز الهند.
نفردوا الخليط هدا كله في طاجين و ندخلوه الفرن مرة ثانية لين يتحمر و يولي لونه بني ذهبي.
بعد ما يبرد نصيفوا الزبيب و نخلطوه كويس، يتخزن في حاجة تكون محكمة الاغلاق و في مكان جاف.
المقادير:
500 جرام شوفان
½ كوب زبدة
½ ميبل سيرول ( شراب القيقب )
2 م.ك سكر بني
4 م.ك سكر ابيض
¾ كوب بيكان ( او أي نوع مكسرات )
½ كوب زبيب ( او أي نوع فواكه مجففة )
¼ كوب جوز هند
now all you have to do is store in a good container or a jar, can last for weeks as long as its its in dry cool place.
top it with plain yogurt with ur favorite fruits and there you go!